Our Experienced Teacher
Ram Ji
Course Director/Lead Instructor
- Ashtanga & Hatha Yoga, Anatomy & Alignment
Yogi Ram Ji is one of the most talented Asana Teacher, very Experienced, as well as knowledgeable, students love his teaching style, he is very inspiring & Motivative. Ram Ji is Gold Medalist of Yoga Championship and yoga alliance certified as well as he has done masters in yoga sciences. One of the best Ashtanga/ Hatha/ Vinyasa Flow yoga teacher in Rishikesh, India.
Azmi Ji
Philosophy Teacher
Azmi ji is a yoga philosophy teacher, in 2012 he met Balinese spiritual master and studied with him at the ashram for 2 years. while at the ashram Azmi ji practiced number meditation and studied Vedic philosophy, as well yoga asanas to support his meditation practice. then continued his education at Hindu Dharma Univerity in bali majoring Yoga&health also did several yoga teacher training with yoga alliance.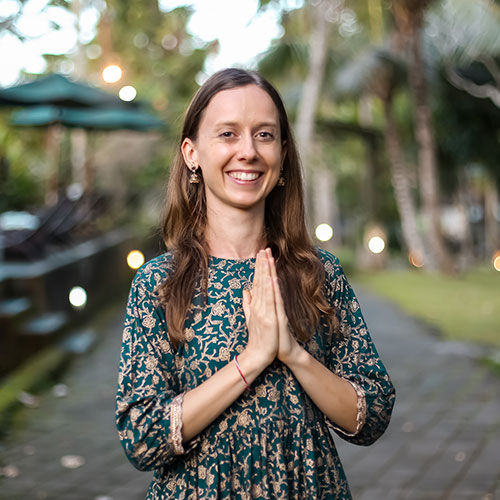 Emilia Ji
Vinyasa Flow Teacher
Meet Emilia Ji, a certified yoga teacher with great experience in teaching various aspects of yoga. She has been practicing yoga for years, and it has become an integral part of her life. She completed her 500 yoga teacher training course in Rishikesh. Also, she gained knowledge and skills in Sound Healing Level 3, Yin Yoga, Aerial Yoga, and Marma Therapy. She has been sharing her knowledge with yoga aspirants ever since.
In addition to Vinyasa Flow, She is also experienced in teaching Pranayama, the practice of breath control. Emilia Ji is also a skilled meditation teacher, guiding students through various techniques such as mindfulness meditation, loving-kindness meditation, and visualization.
Overall, Bali Yoga Ashram is overwhelmed to have a teacher like Emilia Ji who is compassionate and dedicated to helping her students discover the transformative power of yoga.
Read more